Hill Center is a preferred venue for groups interested in green meetings, trainings and workshops in a historic venue with modern amenities.
Ready to book space? Get Started.
Capacity
Use our flexible spaces as a boardroom for 10, theater style for 110, seated reception for up to 140 or cocktail reception for up to 250 on the entire second floor. Looking for something bigger? Use the entire campus, including our outdoor garden, for a gathering of up to 600 people.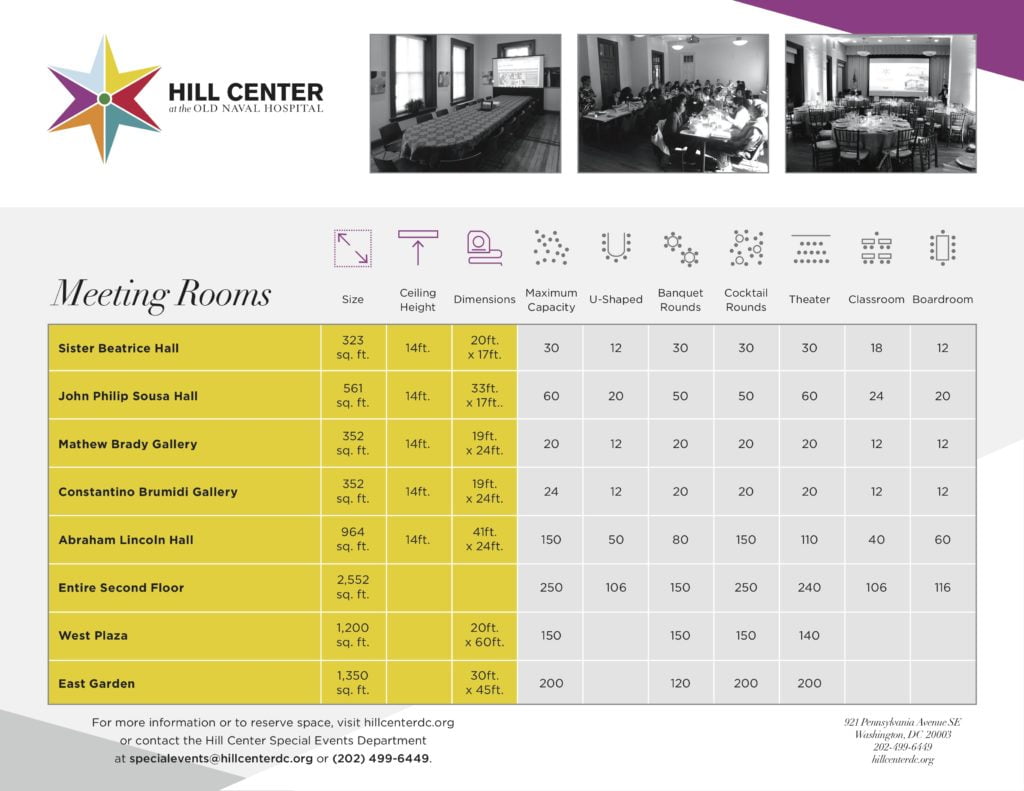 Download the Hill Center Capacity Chart or Floor Plans.
Save
Business Basics Package
Projector and screen

Linens

Furniture

Flip charts or white boards

Meeting supplies

Coffee & Beverage service also available
A/V Package
Lectern

Microphone

Mixer

Tabletop microphones for conference panel (3)

On-site A/V coordinator

Coffee & Beverage service also available
Combination Package
Combine all the features of our Business Basics Package and our A/V Package for just $750/day!
This was a great event in no small part to your flexibility and responsiveness to all of our various questions beforehand as well as our onsite needs.  The staff from the museum and our facilitators felt very taken care of…We received so many wonderful comments from our presenters and our participants on how much they loved the atmosphere of the building. One big attraction was the bright feeling in the Lincoln Hall that really added to everyone's upbeat energy during a daylong workshop on an intense topic.
Thank you, thank you, thank you for making or event on Saturday such a successful and memorable one!  The set-up & space was flawless, as was your awesome client centered service & attention to detail!...Our parents, partners & my client were all blown away by the beautiful & overall feel of the space
WOW! This event ROCKED and it's all about you and your team! Thanks so much for working with us to create an amazing event we can all be proud of. Your team executed a flawless event…
Preferred Vendors
Hill Center allows you to pick your own caters and vendors for your events, but here are a few who we think do a great job and know Hill Center very well!
Drop Off & Full Service Caterers
Eat & Smile
eatandsmilecatering.com
Katie Rotramel
inquiry@eatandsmilecatering.com
202-733-3106
Geppetto Catering
geppettocatering.com
Kimberly Parker
kparker@geppettocatering.com
301-927-8800
Haute Catering
hautecateringdc.com
Vanessa Belsito
vbelsito@hautecateringdc.com
202-409-6941
Occasions Caterers
occasionscaterers.com
Susan Darrow
sdarrow@occasionscaterers.com
202-454-7813
Danielle Redmond (Weddings)
dredmond@occasionscaterers.com
202-454-7827
Main Event Caterers
maineventcaterers.com
Elyse McFadden
Elyse@maineventcaterers.com
703-820-2028 ext. 249
Well Dunn Catering
welldunn.com
Natalie Walker
nwalker@welldunn.com
202-543-7878
---
DJ/Photographers
DJ Delights
djdelights.com
tom@djdelights.com
Tom Gavin
800-331-3341
---
Flowers
Floral & Bloom
floralandbloom.com
Rachel
rachel@floralandbloom.com
240-481-1588
Surroundings Flowers & Events
surroundings.bz
surroundings@comcast.net
202-546-2125
---
Parking
MJ Valet, LLC
mjvalet.com
Michael Jasser
mjasser@mjvalet.com
202-587-2745 Ext. 1
---
Rental Equipment
Frager's Just Ask Rental
fragersdc.com
rental@fragersdc.com
202-543-0100
Grand Rental Events
grandrentalevents.com
Adrien Braddy
adrien@grandrentalevents.com
410-674-7500
Party Rental Ltd.
partyrentalltd.com
Sheri Schrader
sheris@partyrentalltd.com
301-931-4580
Perfect Settings
perfectsettings.com
sales@perfectsettings.com
202-722-2900
---
Audio Visual/Lighting
John Farr Lighting
johnfarrlighting.com
Eric Hertsch
eric@johnfarrlighting.com
301-390-2728
RCI Sound Systems
rcisound.com
David Ballenger
davidb@rcisound.com
301-931-9001 ext. 206
---
Event Insurance
(or ask your agent about adding on to your homeowner's insurance)
Markel Insurance Co.
markelinsurance.com
800-236-2862 (weddings)
800-416-4364 (other events)
---
Download the Preferred Vendors

Get Started
Fill out this form and someone from our Special Events staff will be in touch shortly.