Our building will be closed through at least March 31 and we will not be able to host events during this time.
However, our events and rentals staff is teleworking during this period and can book future events!

Move out of the board room and ballroom, and into a unique, historic venue for events and meetings in Washington, DC. Hill Center is a historic venue with modern amenities for groups of 10 to 250 people. Featuring natural light, flexible spaces, and beautiful outdoor gardens, space fills up quickly! Book soon!

Features & Amenities
Natural light from 8-foot windows in an exquisitely restored historic Civil War-era building recognized by "Save America's Treasures"
Modern amenities, including free Wi-Fi, built-in sound system, screens, projectors, and air conditioning
Flexible spaces for groups ranging from 10-250, including light-filled breakout rooms
Beautifully landscaped gardens, perfect for an outdoor event
Knowledgeable on-site staff
Green, environmentally friendly building
Freedom to choose your own caterer
Located on Capitol Hill, one block from the Eastern Market Metro convenient to Reagan National Airport, The Wharf, Navy Yard, and Nats Park.
Hill Center is a an arts and culture non-profit organization and features a rotating exhibit of artwork by regional artists
Natural light filled, flexible meeting and break-out rooms
Modern amenities, including A/V and air conditioning
Free Wi-Fi
Near restaurants & hotels on Barracks Row, Eastern Market, Navy Yard & Waterfront
Meets federal guidelines for green meetings
Non-profit discount available
One block from Eastern Market Metro (blue, orange and silver lines)
Packages begin at $3999
Beautiful gardens for an outdoor wedding ceremony or reception
Capacity of up to 140 for a seated dinner or 250 for a cocktail reception
Modern amenities, including Wi-Fi, built in sound system and AC
Packages include eight hours of set-up and tear down
Freedom to choose your own licensed caterer
Rehearsal Dinner and Wedding Shower packages available
Packages begin at $349
Host your party or celebration at Hill Center so you don't have to host at home
Our Parties & Celebrations Party Packages feature options for up to 60 guests, perfect for birthday parties, wedding or baby showers, and more!
Up to 250 in a standing reception for a family reunion, bar or bat mitzvah, formal or prom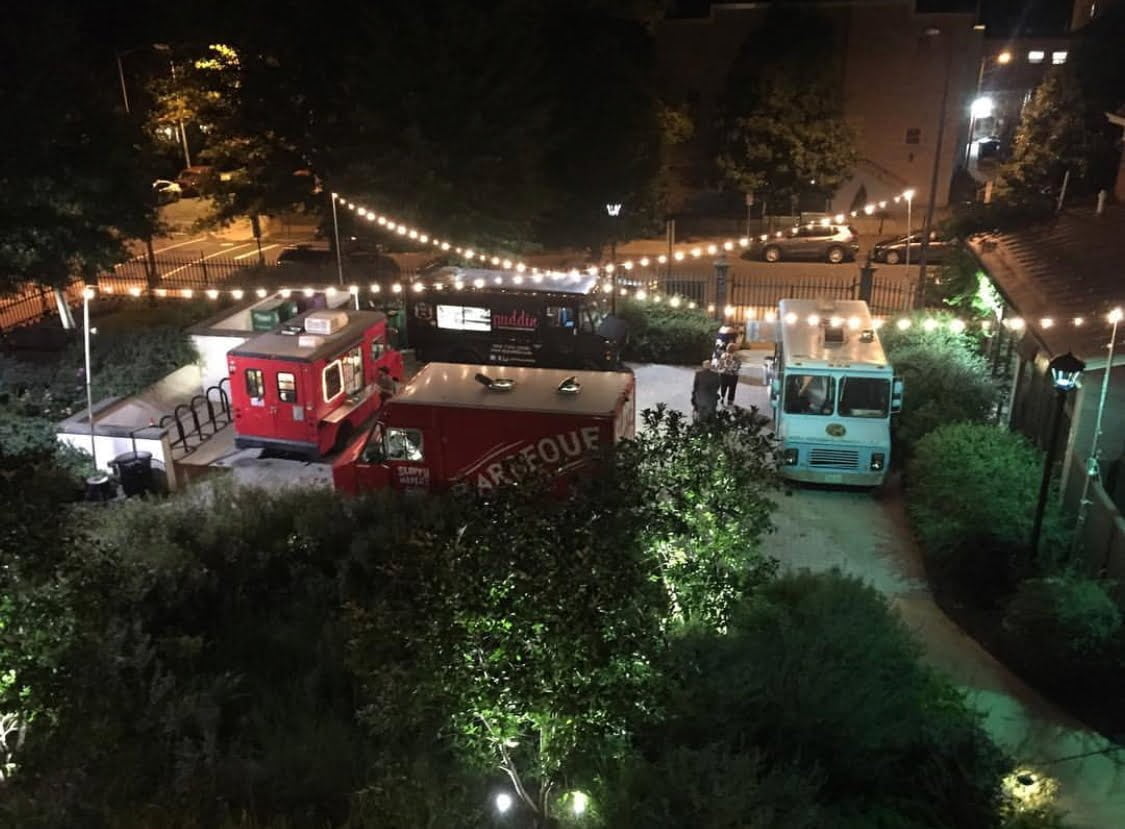 Other Space Rentals
Hill Center is the perfect venue for a wide variety of recurring meetings and organizations who are looking for an ongoing short-term or long-term space rentals. Our state of the art demonstration kitchen is the ideal space for groups to rent for corporate team building exercises. We even offer space for pop-ups and other unique ventures. Whether you are in need of a space daily, weekly, or monthly, we have the room to accommodate your needs.
Past events at Hill Center include:
Meetings – Conferences – Retreats – Working groups – Business meetings – Health seminars – Client meetings – Ongoing long-term or short-term rentals – Corporate trainings – Kitchen rentals – Staff training – Planning meetings – Public meetings – Board meetings – Fundraisers – Lectures – Book signings – Pop-ups – Association and foundation meetings – Forums – Professional development – Teacher trainings and seminars – Open houses and fairs – Weddings – Rehearsal dinners – Engagement parties – Baby showers – Wedding showers – Vow renewals – Family reunions – Birthday parties – Retirement parties – Anniversary celebrations – Bar/Bat Mitzvahs – Bris – Baptism – Celebrations of life – Graduations – Proms and formals – Picnics – Sweet 16 parties – Quinceañera
Spaces
Hill Center has a wide variety of beautiful indoor and outdoor space for events of all types and sizes. All of the light-filled rooms in our historic venue are flexible and can be set-up to meet your unique needs. Rooms, galleries and even entire floors or wings can be rented individually or pieced together, so whether you're looking for an intimate business meeting with just a few partners or want to rent the entire Hill Center campus for a large party, our skilled Special Events team will put together the perfect package for your event.
Frequently Asked Questions
What types of Special Events are suited to Hill Center?

Hill Center is perfect for almost any event, including weddings, business events, fundraisers, parties and celebrations.

What space is available at Hill Center for Special Events?

Hill Center has over 2500 square feet of meeting space including the entire second floor. In addition, the garden provides beautiful outdoor space for events and the entire campus is also available as well.

What is the capacity of Hill Center for Special Events?

Our elegant venue and grounds accommodate 10-100 guests. In an entire campus rental, up to 600 guests can be throughout the entire building and grounds.

How can I schedule a tour?

You may set up a tour by emailing SpecialEvents@HillCenterDC.org or by calling our Special Events office at 202-499- 6449.

Is Hill Center convenient to transportation and Washington landmarks?

Hill Center is just blocks from the US Capitol, one block from Eastern Market Metro, 15 minutes from Reagan National Airport, and 10 minutes from Union Station.

Is it possible to hold a date?

You may hold a date for up to two weeks.

How do I book an event?

Contact our Special Events department by emailing SpecialEvents@HillCenterDC.org, call (202) 499-6449 or fill out the form at the bottom of this webpage to get started. If the date is available, we will then send you a contract, rental guidelines and invoice. Once you return the signed contract and guidelines with your rental fee and security deposit, you are all set.

What is your cancellation policy?

All cancellations must be made in writing by the contract holder, signed and addressed to Hill Center. The following cancellation rates will be applied: If the contract holder cancels the event after making the reservation, the security deposit is forfeited. If the contract holder cancels the event between 90 days after making the reservation and 60 days prior to the event date, the security deposit and 50% of the rental fee will be forfeited. If the contract holder cancels the event less than 60 days before the event date, all fees paid will be forfeited. Rescheduling your event is also possible.

What are the hours of operation for Special Events?

Special events are welcome from 8:00 a.m. to 11:00 p.m.

Are there any restrictions on use of the garden?

The garden is available from 8:00 a.m. to 9:00 p.m. Sunday through Thursday and from 9:00 a.m. to 10:00 p.m. on Friday and Saturday. The garden may be tented; however if not tented, backup space must also be rented in case of inclement weather.

Do you have any rental equipment available?

Yes, Hill Center has banquet rounds, rectangular tables, hightop tables, coat racks, and chairs available for rental.

What audiovisual equipment is available?

Hill Center has a state-of- the-art audiovisual system including built-in screens and projectors in some rooms. A price list is available upon request.

What is your policy on serving alcohol?

Hill Center has a liquor license, and all beer and wine can be purchased from our beverage list. By special arrangement, you may supply your own alcohol but there will be a $200 beverage manager fee.

Do you require insurance?

Hill Center requires insurance for events with more than 100 attendees when alcohol will be served. Please see our guidelines for details.

Can we have a DJ?

Yes, as long as noise levels do not exceed the restrictions outlined by the DC government.

Are there any other guidelines?

A complete set of Guidelines is available on our website. Hosts and all vendors must sign the guidelines.
Get Started
Fill out this form and someone from our Special Events staff will be in touch shortly.