Hill Center Galleries Juried Show Features Something for Everyone
Each year, Hill Center Galleries offers an open call for artists from DC, Virginia and Maryland. Aside from the fact that the artwork must be able to hang on the wall and be made recently, there are no other requirements placed on the artwork. No themes, no specific mediums – the sky is the limit.
Over 650 pieces of work were submitted by nearly 150 artists in DC, Virginia and Maryland. As a result, the show's juror Annette Polan, Portrait Artist and Professor Emerita, Corcoran College of Art + Design, The George Washington University, had her work in cut out for her.  The challenge: curate a show of approximately 100 pieces to fill Hill Center's three floors of gallery space.
"It's exciting to see the quality and diversity of the art work submitted. It was no surprise to see good examples of cutting edge political commentary, non-objective abstraction and figurative explorations in many different medias from painting, photography, printmaking collage and relief," noted Polan, "I was surprised, however, to see so much good work."
It wasn't easy. After hours of thoughtful deliberation, Polan chose the work of about 100 artists. Once the show was installed, Polan spent a few more hours contemplating the award winner. In the end, she selected three prize winners and ten honorable mentions.
1st Prize – M. Alexander Gray: Hardware River Aqueduct II (framed woodcut on paper)
2nd Prize – Gediyon Kifle: Tio II (photograph)

3rd Prize – Leslie Nolan: Under Wraps 3 (acrylic and house paint on canvas)

Honorable Mentions:
Cedric Baker: Girl in Denim Jacket (oil on canvas)
Sally Canzoneri: Women Marchers 1913 & 2017 (lenticular picture)
Kristine DeNinno: Lincoln City (one plate collagraph)
Nancy Freeman: After the Big Snow (pastel on paper)
Larry Gomez: Untitled (oil on canvas)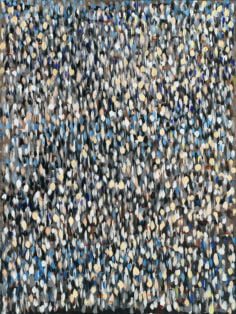 Sheila Harrington: Thoughts & Prayers (watercolor on paper)
Megan Maher: Mish Mash (acrylic and pencil on clayboard)
Elaine Qiu: Where the Nomads Meet (oil on canvas)
Carol Ward: Milky Way at Low Tide (photograph)
Corinne Whitlatch: The Middle East Peace Process Carousel (mixed media)

Artists whose work was chosen to be included in the show are:
Roberta Abel – Mary Ellen Abrecht – Lynda Andrews-Barry – Kasse Andrews-Weller – Ken Bachman – Cedric Baker – Joseph Bellofatto – Alan Braley – Sally Brucker – Judy Buelow – Kimberley Bursic – Aukram Burton – Sally Canzoneri – Marilyn Christiano – Karen Cohen – Jay Coleman – Marie-B De Amicis – Kristine DeNinno – Sam Dixon – Karin Edgett – Rosemary Fallon – Kate Featherston – Gloria Fischer – Michael Fleischhacker – Michael Ford – Nancy Freeman – Rik Freeman – Ric Garcia – Mary Geissenhainer – Christina Girardi – Thom Goertel – Larry Gomez – M. Alexander Gray – Tom Greaves – Sheila Harrington – Phillip Harris – David Harris – Emily Hoxworth – Jim Huttinger – Tamora Ilasat – Sharman Johnson – Brandon D. Johnson – Yassaman Kashanipour – Margaret Kepner – Glen Kessler – Gediyon Kifle – JoAnn Lamicella Laboy – Kay Layne – Wan Lee – Clara Turner Lee – Addison Likins – Linda Lowery – Megan Maher – Jane Mann – Mahua Mazumdar – Linda McNamara – Mike McSorley – Michael Mitchell – Kevin Mitchell – Kathryn Mohrman – Diego Montoya – Nan Morrison – Richard Niewerth – Leslie Nolan – Rindy OBrien – William Olexik – John Pacheco – Albert Perry – Sabiyha Prince – Elaine Qiu – Nan Raphael – Erika Rubel – Rick Ruggles – Maria Santiago – Alden Schofield – Wil Scott – Judy Searles – Monica Servaites – Dilip Sheth – Steven Skowron – Diane Small English – Yemonja Smalls – Davood Tashayyod – Kamran Tiv – Catherine Toulsaly – Rachel Trego – Marina Troy – Tinam Valk – Suzanne Vigil – Jeff Wallentiny – Thomas Walsh – Steve Wanna – Carol Ward – Lisa Ward – Raphael Warshaw – Tim Weedlun – Richard Weiblinger – Corinne Whitlatch – Patricia Whittle – Mara Wilson – Justin Worrell – Lis Zadravec – Karen Zens
The Hill Center Galleries Regional Juried Exhibition runs through September 22, 2018. Gallery hours are
Monday-Thursday: 8 a.m.-7 p.m.
Fridays: 8 a.m.-6 p.m.
Saturdays: 8 a.m.-5 p.m.
Sundays: 10 a.m.-5 p.m.
There are occasional closings for special events. Please call (202) 549-4172 for confirmation of open hours on a particular day.